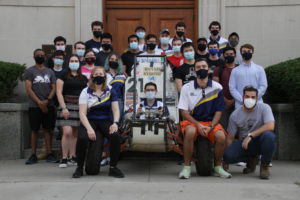 Despite the pandemic, the team was able to come back to campus starting in August and work in the shop and labs to continue assembling our vehicles. By the end of the school year, we were able to successfully complete the frame of our first four-wheel drive car and make headway in completing the remaining systems. At the end of the semester, we had the chance to attend a competition in Louisville, Kentucky with a two-wheel drive car that we had revised and optimized. The team placed 21st out of 57! You can click here to read the official results from SAE and the breakdown of the scores.
We held elections for new Design and Executive board members at the end of the spring semester and the roster is now as follows:
2021-2022 Design Board:
Autonomous Vehicle Lead: Sam Kriegsman (Class of 2023)
Data Acquisition Lead: Colin Blake (Class of 2024)
Suspension Lead: Lale Yilmaz (Class of 2022)
Drivetrain Lead: Charles Fleischmann (Class of 2023)
Frame Lead: Alexander Nagy (Class of 2024)
2021-2022 Executive Board
Chief Mechanic: Conor McCole (Class of 2023)
Chief Engineer: Ognjen Bosic (Class of 2022)
Business Manager: Linh Vu (Class of 2023)
President: Chris Harriott (Class of 2023)
We have been regularly holding meetings over the summer and working hard to make sure we hit the ground running with a new design in progress and plans to complete the assembly of the past year's four-wheel drive vehicle soon after the team arrives on campus. We are looking forward to testing this vehicle out and coming to understand the new challenges that a four-wheel drive car presents!