President & Vice President Elections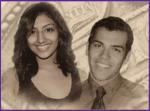 Fellow Yellowjackets, we would like you to elect us to serve as your SA President and Vice-President for the 2013-2014 academic year! Since her freshman year, Shilpa has dedicated her time for the advancement of the SA, utilizing her experience as a Senator, Chair of the Policy & Review Committee, Chair of the Steering Committee, and as the current Speaker of the Senate. Greg, on the other hand, served one semester as a Senator and has devoted himself to representing our community both on and off campus as a member of the Midnight Ramblers and as a Meridian tour guide for the Office of Admissions. With our diversity of involvement and leadership experience, we are confident in our ability to be effective and reliable advocates for the student body!

Due to the widespread emphasis on growth and innovation, it is an exciting time to witness change on our campus. However, in light of this dynamic setting, it has become more important than ever that we focus our attention on the current state of our university in order to ensure our progress forward only strengthens our tight-knit community.

To learn more about our Students' Association and campus involvement, read a sampling of our specific initiatives, or provide us with any feedback, please visit http://www.shilpaandgreg.com.

Consistency and Expansion of Student Services
In our time here at the University, we've noticed a discrepancy among student services and resources across campus. Our results-driven team is passionate about fixing these discrepancies and creating consistent services with the equality of all students in mind. Furthermore, we are committed to increasing the quantity of services for our constituents, while striving to ameliorate those already established.

Community Engagement and Unification
The diverse interests of our student body and wealth of co-curricular opportunities constantly feed the University of Rochester's dynamic environment. In the interest of preserving such a unique campus, we seek to reduce the many barriers students must overcome, thus enabling the widespread celebration of our rich community.

Accessibility and Priority for Student Feedback
Student concerns regarding current campus topics are the fuel for affecting unique and necessary changes within our campus community. Though we have extensively developed our own personal vision, we recognize that the needs of the student population evolve constantly. With a feedback-oriented attitude, we intend to pinpoint these needs as a focus for our work.

Vote Shilpa and Greg, SA President and Vice President. Let's make a difference!