Bubble Tea (Open to all)
Monday, Sept 9th 7:00-9:00pm, Tiernan Lounge

Come join us for a refreshing break of bubble tea and meet the sisters of Sigma Psi Zeta.
Pop Pilates Workout
Tuesday, Sept 10th 6:30-8:00pm, O'Brien Dance Studio

Feel the burn and have fun doing it!
General Interest Meeting
Wednesday, Sept 11th 7:30-8:30pm, Morey 502

Ever wonder what it means to be a Sigma? Come find out who we are and what we do!
---

Lindsey Harris "Valor"
Why did you join Sigma Psi Zeta?
I was initially attracted to Sigma because of the close bonds I saw between sisters, which was something I was looking for. However, the reason I chose Sigma is because I knew that as a part of the organization, I would be a part of something greater than myself. I never could have foreseen the opportunities I've had as a sister so far and it has been an overall rewarding experience. I came looking for a family and found that and so much more.
What is your favorite memory as a sister?
My favorite memory as a sister was this past summer at our national convention. We had just arrived and were checking in at the hotel when one of my pledge sisters from another chapter (who I had only met once 7 months prior) ran up and gave me the biggest hug as if no time had passed at all. It was such a cool feeling knowing that that bonds of sisterhood know no distance or time.
Rush Sigma Psi Zeta Fall 2013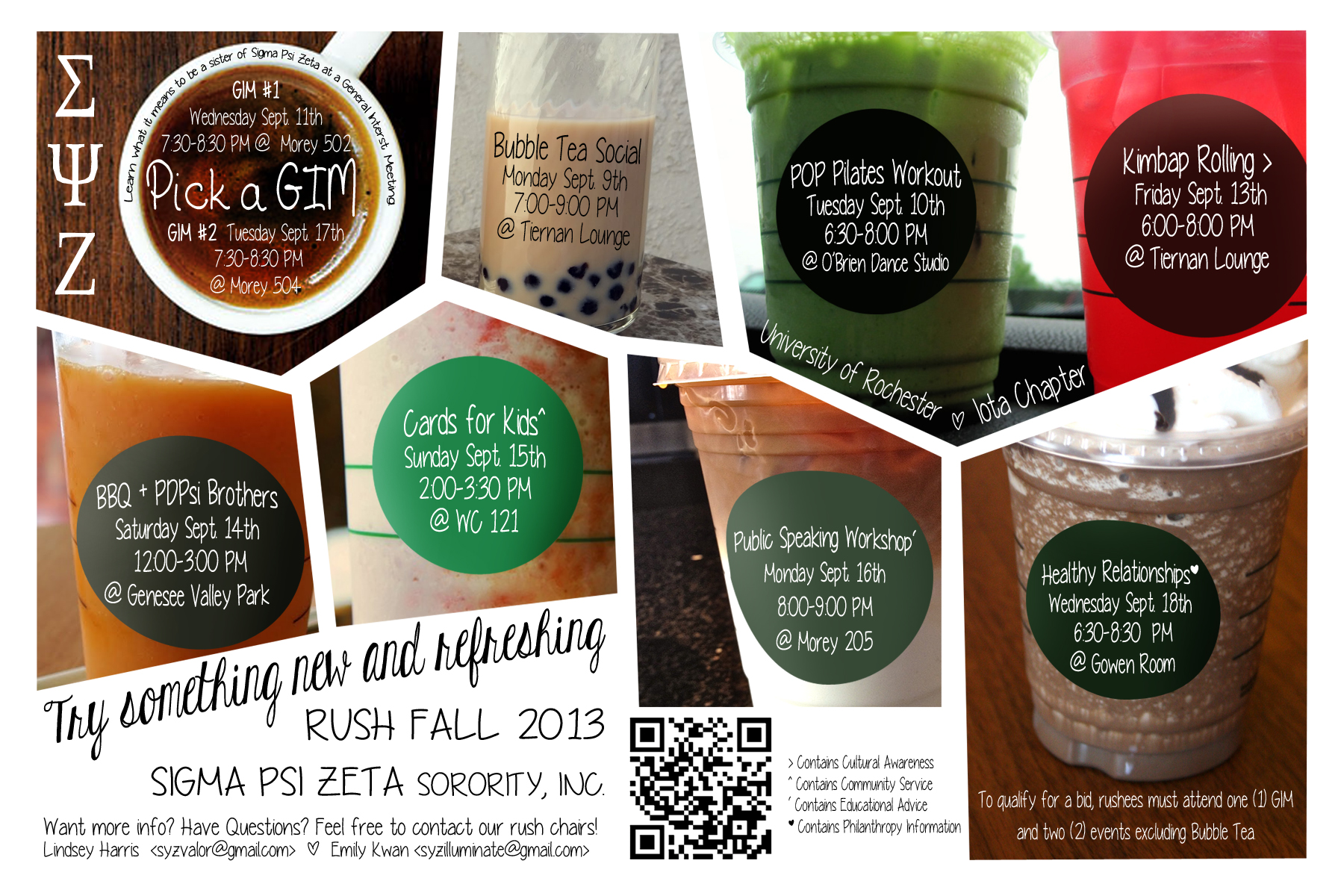 Rush Schedule:

Bubble Tea (Open to all)
Monday, Sept 9th 7:00-9:00pm, Tiernan Lounge
Come join us for a refreshing break of bubble tea and meet the sisters of Sigma Psi Zeta.

Pop Pilates Workout
Tuesday, Sept 10th 6:30-8:00pm, O'Brien Dance Studio
Feel the burn and have fun doing it!

General Interest Meeting
Wednesday, Sept 11th 7:30-8:30pm, Morey 502
Ever wonder what it means to be a Sigma? Come find out who we are and what we do!

Kimbap Rolling
Friday, Sept 13th 6:00-8:00pm, Tiernan Lounge
Come learn how to roll the traditional Korean kimbap!

BBQ with PDPsi
Saturday, Sept 14th 12:00-3:00pm, Genesee Valley Park
Join us along with the brothers of Pi Delta Psi Fraternity Inc. for a sunny afternoon in the park.

Cards for Kids
Sunday, Sept 15th 2:00-3:30pm, WC 121
Come decorate cards with us to give to the children at Golisano Children's Hospital.

Public Speaking Workshop
Monday, Sept 16th 8:00-9:00pm, Morey 205
Representatives from the Writing and Speaking Center will be coming to give a workshop on public speaking. Whether you are an experienced public speaker or a beginner, the Speaking Fellows can help you improve.

General Interest Meeting
Tuesday, Sept 17th 7:30-8:30pm, Morey 504
Another chance to find out who we are and what we do!

Healthy Relationships
Wednesday, Sept 18th 6:30-8:30pm, Gowen Room
Pam Graham from Alternatives for Battered Women will be giving a talk on what makes up a healthy relationship as a part of "UR Healthy" sponsored by UHS. Stay after the talk for a reception of refreshments and a chance to discuss with the sisters.

All events are free and non-binding. To be eligible for a bid you must attend at least one GIM and two sister events.

For more information contact:
Lindsey Harris syzvalor@gmail.com or
Emily Kwan syziLLuminate@gmail.com

Visit us on our Facebook
posted September, 2013
Domestic Violence Awareness Week
EVENTS SCHEDULE:

Wednesday 10/17
Stand Up Guys Speaker and Open Forum
7:30 - 9:30PM, Morey 321
The time is now for men to begin to take an active part in Standing Up and Speaking Out, so that we can together, break the silence.
Led by Jack Brennick, co-founder of Stand Up Guys

Friday 10/19
Domestic Violence Awareness Banquet
6:30 - 8:30PM, Meliora Ballroom
Join us in our fundraising banquet. Enjoy good food and great company.
$12 declining for a 3-course meal
Dress code: purple is highly recommended

Saturday 10/20
Community Service with Stand Up Guys
11:00 - 1:00PM, Meet at ITS
Help out at the Stand Up Guys headquarters.

Ongoing events:
Mon - Fri (Oct 15 - 20th) - Tabling for Bracelets
Stop by our table in Wilson Commons to purchase a Love shouldn't hurt wristband and support our cause

Mon - Fri (Oct 22 - 27th) - Expression Wall
Exhibition of inspiring art work that touch on various aspects of domestic violence.

Check out our Facebook event page
posted September, 2012