BMES Mentoring Event 2- Ananya Goyal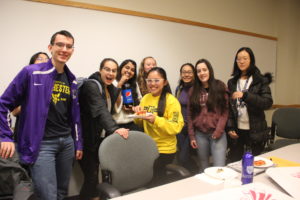 The event took place on October 22nd, from 7 – 8 pm, in the Munnerlyn Atrium, Goergen Hall. It was the second mentoring event of the semester, with another one being planned for October. Upper class and underclass BMEs were invited to meet and socialize with each other. The aim of the event was to help first and second year student get advice about course registration and schedule planning, as registration is in two weeks. Pizza and soda were also served
Concentration panel – Chantelle Lim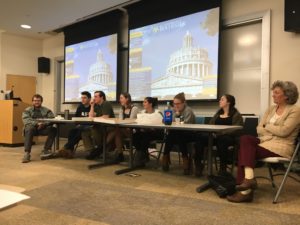 The BMES held a concentration panel on October 23rd 5pm. The panel consisted of Seven senior BMEs covering all four BME concentrations and Professor Lerner. They gave advice to first-year BMEs on what each concentration entailed and shared their experiences when choosing concentrations.
Biotech Industry talk- Chantelle Lim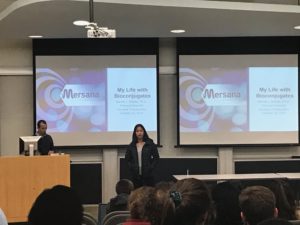 BMES hosted a Biotech Industry Talk featuring 2001 alum Barrett Nehilla. This event was co-sponsored by Tau Beta Pi, AICHE, and SWE. Around 40 students across all engineering disciplines attended the talk. Barrett talked about his academic journey: He started with undergraduate studies at the University of Rochester, then going to graduate school in Boston, and returned to the U of R to pursue a postdoc. After that, he ventured into the industry world and was part of a start-up. Right now, he works at Mersana Therapeutics in Boston, MA as their principal scientist.
E-Social-Caroline Stockwell
The Fall Engineering Social (Esocial) took place on Friday, October 26th from 2-3:30 pm on Wilson commons porch. The Esocial, open to all students, not just engineers, happens once every fall and is a great opportunity for students and faculty alike to bond over fall themed activities and food. Activities included pumpkin painting, doughnut on a string, and corn hole. Guests enjoyed chicken wings, fresh fruit, and apple cider. This event was co-sponsored by numerous STEM oriented clubs, including AIChE, ASME, BMES, CSUG, EWB, NSBE, OSA, SASE, SHPE, SWE, UR Robotics, UR Makers, and UR Solar Splash. The event was overall a success, and many left with festive pumpkins and doughnut on a string victories.